Загрязнение воды
landviser пт, 02/07/2014 - 19:17
Dr. Larisa Golovko (President of Landviser, LLC) will be presenting "Geophysical Methods of Electrical Resistivity and Self-Potential in Agriculture" in first of
Agricultural Geophysics Webinar Series: "Application of Geophysical Methods to Agriculture: Methods Employed"
A live webinar on the application of geophysics to agriculture will be offered on:
Tuesday, February 18, 2014, from 3pm - 4:30pm EST
(2:00 - 3:30 CST, 1:00 - 2:30 MST, 12:00 - 1:30 PST)
This first in a series of agricultural geophysics webinars will focus on the near-surface geophysical methods presently being used for agricultural purposes, which include resistivity, self-potential, electromagnetic induction, ground penetrating radar, dielectric sensors, VIS/NIR/MIR spectrometry, gamma ray spectrometry, mechanical soil compaction sensors, and ion selective potentiometry. Five presenters will provide a short overview of agricultural geophysical methods during the first 30 minutes of the webinar. The last hour of the webinar will be devoted to a panel discussion with the presenters, who will answer questions from the audience.
Местоположение
28° 8' 11.7564" N, 90° 50' 5.8596" W
landviser вт, 11/20/2012 - 20:06
We wish all our customers, friends, and collegues Merry Christmas, Happy New Year and wonderful holiday season!
It has been a remarkable year for Landviser! We've completed several exciting projects with the focus on expanding capabilities of our LandMapper geophysical devices and helped many of our customers with their research. Our LandMapper geophysical devices have been gaining popularity around the globe. To extend our warmest Holiday wishes we are offering unprecidented discount of 20% on basic ERM-01 model from the current price of $1579. The new reduced price for ERM-01 of $1263 will be in effect until December 31, 2012 or while supplies last. Regular educational and dealers's discounts are still apply on the top of newly reduced price as stated in
Current complete catalog of Landviser, LLC
To claim your ERM-01 now at a discounted price, email or call us (+1-609-412-0555) and mention promotion code 2012-12-ERM01. This offer is "first come, first serve" and is only available on pre-paid terms via credit card or wire transfer.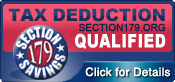 Special Note for USA customers: Landviser's equipment and software qualify for tax deduction under Section 179. You still have time to purchase ERM-01, ERM-02 or RES2DINV/RES3DINV in 2012, before this deduction expires!
Landviser, LLC develops and sells portable handheld geophysical devices, Landmapper ERM-01 and ERM-02 for measuring electrical properties (electrical resistivity, conductivity, and potential) in soils, plants and other semisolid and liquid media since 2003. This equipment is small, fully computer-integrated, and easy to use. It is very competitively priced and come handy many environmental, archaeological and agricultural applications, especially mapping and monitoring soil salinity and pollution. Information flyers can be downloaded from the links below:
More information on applications of both models is available in free publication in FastTIMES magazine:
Golovko, Larisa, Anatoly Pozdnyakov, and Antonina Pozdnyakova. "LandMapper ERM-02: Handheld Meter for Near-Surface Electrical Geophysical Surveys." FastTIMES (EEGS) 15, no. 4 - Agriculture: A Budding Field in Geophysics (December 2010): 85–93. http://www.landviser.net/webfm_send/69
Местоположение
Landviser LLC
Houston
29° 45' 36.6948" N, 95° 22' 9.804" W
landviser чт, 10/25/2012 - 17:01
was published in December, 2010 issue of FastTIMES, online peer-reviewed journal of EEGS. To cite this publication use:
Golovko, Larisa, Anatoly Pozdnyakov, and Antonina Pozdnyakova. "LandMapper ERM-02: Handheld Meter for Near-Surface Electrical Geophysical Surveys."
FastTIMES (EEGS)
15, no. 4 - Agriculture: A Budding Field in Geophysics (December 2010): 85–93.
http://www.landviser.net/webfm_send/69
| | |
| --- | --- |
| | Registered users can download PDF of full text of proceedings paper from our website. Or browse online version below and leave your comments. You might also like to go to EEGS website to get PDFs of other publications on applications of geophysics to near-surface environmental problems published in this popular FREE online scientific magazine. |
Abstract
On-the-go sensors, designed to measure soil electrical resistivity (ER) or electrical conductivity (EC) are vital for faster non-destructive soil mapping in precision agriculture, civil and environmental engineering, archaeology and other near-surface applications. Compared with electromagnetic methods and ground penetrating radar, methods of EC/ER measured with direct current and four-electrode probe have fewer limitations and were successfully applied on clayish and saline soils as well as on highly resistive sandy soils, such as Alfisols and Spodosols. However, commercially available contact devices, which utilize a four-electrode principle, are bulky, very expensive, and can be used only on fallow fields. Multi-electrode ER-imaging systems applied in deep geophysical explorations are heavy, cumbersome and their use is usually cost-prohibited in many near-surface applications, such as forestry, archaeology, environmental site assessment and cleanup, and in agricultural surveys on farms growing perennial horticultural crops, vegetables, or turf-grass. In such applications there is a need for accurate, portable, low-cost device to quickly check resistivity of the ground on-a-spot, especially on the sites non-accessible with heavy machinery.
Местоположение
Laramie
,
WY
41° 18' 40.9212" N, 105° 35' 27.9636" W